Podcast: Play in new window | Download
---
 In this final episode of Season 3 of the Stay Calm, Don't Panic! Podcast, Chris Robey talks to Benny Nowell of Sevens in Boulder, Colorado about the power of belonging. Through his work with homeless teenagers, Benny has seen the extremes teens will go to find acceptance and belonging and speaks to our role as adults to help teenagers find positive places to belong. Join the conversation and find out how simple words can make a big impact! 
In this episode, Benny Nowell discusses…
The importance of belonging, especially during adolescence.
How present, engaged adults can impact a teenager.
Am I present and engaged when interacting with teenagers? How could I be more present?
Who needs to hear an encouraging word from me today?
Where do you feel you belong?
How do you make others feel like they belong? Who could you reach out to?
In this episode, we mentioned the following resources:
Benny spends time on the streets building relationships and raising financial support to do SEVENS full-time. He speaks to churches and youth groups about missional living and owns Barlow's Premium Cigars & Pipes. It is his heart and passion for the marginalized that makes SEVENS a place of rest for their street friends.
Chris Robey is the Program Director for Teen Life. Earlier in his career while working as a youth minister, Chris earned a Masters Degree in Family Life Education from Lubbock Christian University to better equip his work with teenagers and families. Chris' career and educational opportunities have exposed him to teenagers from a variety of backgrounds. Follow him on Twitter!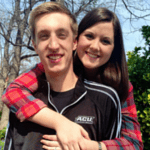 Karlie Duke started working as Teen Life's Communications Director after graduating from Abilene Christian University with a degree in Communications with a minor in Family Studies. Karlie has worked with teenagers for the past 5 years and is passionate about encouraging students to live better stories. Follow her on Twitter or Instagram!
If you have a question about something you heard or just want to give us some feedback, please leave us a comment below.  We would love to hear from you!