Podcast: Play in new window | Download
We all dread the unexpected – we worry, plan, and avoid it at all costs.
In the first episode of this series, we are talking to Malaya Bizaillion about life after the unexpected happens. At just 9 years old, Malaya lost her mom, Jenny Ross Bizaillion, following an unexpected illness that took her life only 19 days after going to the hospital. Now as a graduating senior in high school, Malaya shares her story with grace and wisdom. Malaya gives hope in the midst of loss and is an incredible voice for teenagers who are living life in the midst of the expected burden of loss.
We talk about grief, heavenly birthdays, grace, and how adults can be helpful.
If you have experienced the loss of parent, or are walking through life with a teen who has a similar experience, this is the podcast for you! We invite you to join our conversation with Malaya Bizaillion.
In this episode, we mentioned the following resources:
Malaya Bizaillion is 18 and a senior in high school. She will be attending Abilene Christian University in the fall of 2018 to major in Social Work. She is so excited to see what the Lord has in store!
Chris Robey is the CEO of Teen Life. Earlier in his career while working as a youth minister, Chris earned a Masters Degree in Family Life Education from Lubbock Christian University to better equip his work with teenagers and families. Chris' career and educational opportunities have exposed him to teenagers from a variety of backgrounds. Follow him on Twitter!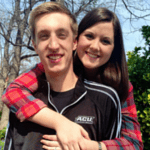 Karlie Duke is Teen Life's Marketing & Development Director, joining Teen Life after graduating from Abilene Christian University with a degree in Communications and a minor in Family Studies. Karlie has worked with teenagers for the past 6 years and is passionate about encouraging students to live better stories. Follow her on Twitter or Instagram!
If you have a question about something you heard or just want to give us some feedback, please leave us a comment below.  We would love to hear from you!