Podcast: Play in new window | Download
Drug use does not just stay with an individual – it can impact an entire family.
In this episode of our "Unexpected" series, we are talking to Amy Deprang and Ross Van Gorder, a mom and son, about teen drug use, it's effects, and how it impacted their family. In seventh grade, Ross started smoking marijuana, sending him down a path of substance abuse and strained family relationships. Now Ross and Amy are sharing their experiences and even discovering different pieces of the story in the process. Ross and Amy give unique perspectives to the difficult situation of teen drug use.
If you are walking through life with a teen who is using drugs, or a family who has been impacted by a similar experience, this is the podcast for you! We invite you to join our conversation with Amy and Ross.
In this episode, we mentioned the following resources:
Amy Deprang is married to Brian, and they are parents to 3 young adult children. Amy loves her 25 year career as a physical therapist. Her last 15 years have been serving as a Pediatric PT and Student Coordinator at Cook Children's Medical Center. She serves with The Net as an Advocate with the Purchased Program and as a Fort Worth Young Life Committee Member.
Ross Van Gorder graduated from Paschal High School in 2016, and then went on to serve overseas for 9 months in Guatemala, South Africa, Lesotho, Swaziland, Cambodia, and Thailand. He is currently working on getting his online degree in Entrepreneurship and is also fundraising to fight human trafficking for two and a half years in Thailand.
Chris Robey is the CEO of Teen Life. Earlier in his career while working as a youth minister, Chris earned a Masters Degree in Family Life Education from Lubbock Christian University to better equip his work with teenagers and families. Chris' career and educational opportunities have exposed him to teenagers from a variety of backgrounds. Follow him on Twitter!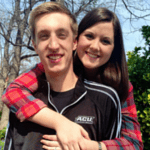 Karlie Duke is Teen Life's Marketing & Development Director, joining Teen Life after graduating from Abilene Christian University with a degree in Communications and a minor in Family Studies. Karlie has worked with teenagers for the past 6 years and is passionate about encouraging students to live better stories. Follow her on Twitter or Instagram!
If you have a question about something you heard or just want to give us some feedback, please leave us a comment below.  We would love to hear from you!