Podcast: Play in new window | Download
---
In part two of our conversation about suicide, Chris and Karlie are joined by Lezlie Culver to talk about "postvention." Through personal experience and her work with families who have lost a loved one to suicide, Lezlie discusses how we can support teenagers who have attempted suicide and families who are affected by suicide. What do we do when someone has attempted or died by suicide? Join our conversation!
In this episode, you'll find out…
The prevalence of suicide among teenagers.
Terms that are appropriate and healthy to use when talking about suicide.
How to talk to a teenager who has attempted suicide.
The effect of suicide on the family.
Ways we can support the survivors of suicide.
Am I uncomfortable talking about suicide? How can I overcome that?
How can I be more mindful of suicide survivors?
What was your experience like? How did you feel when you attempted suicide?
What can I do to help?
In this episode, we mentioned the following resources:
Lezlie D. Culver MSW, Community Volunteer, received her BA in Psychology from the University of Oklahoma and also received her Master's of Social Work from the University of Texas at Arlington. Lezlie founded the LOSS (Local Outreach to Suicide Survivors) Team of Tarrant County in January of 2011. She has presented at LOSS Team National Conference's, the American Association of Suicidology, Department of the Army Fort Worth District Suicide Stand-Down, Tarrant County Sexual Abuse Advisory Council Conference and the Department of Veterans Affairs Suicide Awareness Conference.
Chris Robey is the Program Director for Teen Lifeline, Inc. Earlier in his career while working as a youth minister, Chris earned a Masters Degree in Family Life Education from Lubbock Christian University to better equip his work with teenagers and families. Chris' career and educational opportunities have exposed him to teenagers from a variety of backgrounds. Follow him on
Twitter
!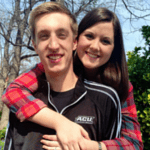 Karlie Duke started working as Teen Lifeline's Communications Director after graduating from Abilene Christian University with a degree in Communications with a minor in Family Studies. Karlie has worked with teenagers for the past 5 years and is passionate about encouraging students to live better stories. Follow her on
Twitter
or
Instagram
!
If you have a question about something you heard or just want to give us some feedback, please leave us a comment below.  We would love to hear from you!