Podcast: Play in new window | Download
---
This episode, Heather and Jade join the Don't Panic Podcast to talk about their stories both separately and as they intertwine. As a young teen mom, Jade has looked to Heather for support and encouragement. With her oldest son now in college, Heather was able to provide hope and a new perspective through her own teen pregnancy. You won't want to miss this episode on the joys and challenges of teen parenthood.  
In this episode, you'll find out…
Two different stories about teen pregnancy and parenthood.
Ways to support and encourage teen parents.
What it is like to be a teen parent while trying to finish school.
The importance of mentors and friends in the life of a teen parent.
Have I sat down and asked someone else's story lately?
How can I better support and encourage a teen parent?
Who has made a difference in my own life?
Who has supported you the most?
What is the biggest joy of being a parent?
How can I help support and encourage you?
In this episode, we mentioned the following resources:
Heather Gradke graduated from Hardin Simmons University with a degree in business and for 10 years led a successful career in recruiting and HR consulting, and is now the studio owner of The Pilates Center. Because of her teen pregnancy story, Heather also has a passion for helping teenagers and serves as Teen Life's Board Chair.
Jade Rains is the mom of a beautiful little girl, Josephina. Since having Josephina, Jade has graduated from Boswell High School and is now working and taking classes at Texas Women's University.
Chris Robey is the Program Director for Teen Lifeline, Inc. Earlier in his career while working as a youth minister, Chris earned a Masters Degree in Family Life Education from Lubbock Christian University to better equip his work with teenagers and families. Chris' career and educational opportunities have exposed him to teenagers from a variety of backgrounds. Follow him on
Twitter
!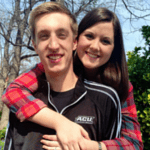 Karlie Duke started working as Teen Lifeline's Communications Director after graduating from Abilene Christian University with a degree in Communications with a minor in Family Studies. Karlie has worked with teenagers for the past 5 years and is passionate about encouraging students to live better stories. Follow her on
Twitter
or
Instagram
!
If you have a question about something you heard or just want to give us some feedback, please leave us a comment below.  We would love to hear from you!