Podcast: Play in new window | Download
---
 Dating violence is something we often hear about but don't know what to do. Surely I don't know a teenager in an abusive relationship! In this episode, Carrie Gurley defines dating violence and gives tips for how we can become more educated and better prepared to walk teenagers through difficult relationships. Aren't sure where to start with dating violence? Don't panic!
[bctt tweet="Never underestimate the influence you can have in a teen's life just because you care! // @dontpanictalk" username=""]
In this episode, you'll find out…
What dating violence is and how it is seen among teenagers.
Ways to teenagers can be protected from abusive relationships.
Some ways to support a teen who is in a violent relationship.
Warning signs that a teenager might be in an unhealthy relationship.
Long term consequences because of dating violence.
Have I noticed any concerning changes in the behavior of a teen?
Am I willing to listen without judgment?
What boundaries have you put on your relationship? How is that going?
Does your school talk about dating violence?
What would you do if your best friend was in a violent relationship?
In this episode, we mentioned the following resources:
Carrie has served as the Executive Director of Valiant Hearts (formerly We Are Cherished) since 2014. She is passionate about the mission to reach and empower women in the sex industry. She is responsible for developing and implementing the programs to serve this vision as well as building a strong team of staff and volunteers to carry out this mission. Carrie has served in various ministries for the past two decades. She has been a Bible teacher, conference and retreat speaker, curriculum developer, church planter, children's minister and intercessor. Follow her on Twitter!
Chris Robey is the Program Director for Teen Lifeline, Inc. Earlier in his career while working as a youth minister, Chris earned a Masters Degree in Family Life Education from Lubbock Christian University to better equip his work with teenagers and families. Chris' career and educational opportunities have exposed him to teenagers from a variety of backgrounds. Follow him on
Twitter
!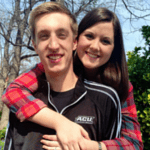 Karlie Duke started working as Teen Lifeline's Communications Director after graduating from Abilene Christian University with a degree in Communications with a minor in Family Studies. Karlie has worked with teenagers for the past 5 years and is passionate about encouraging students to live better stories. Follow her on
Twitter
or
Instagram
!
If you have a question about something you heard or just want to give us some feedback, please leave us a comment below.  We would love to hear from you!