Podcast: Play in new window | Download
---
 In this episode of the Stay Calm, Don't Panic! Podcast, Chris Robey and Ricky Lewis discuss the role of stress in the lives of teenagers and how stress can actually be beneficial. Unfortunately, stress is an unavoidable part of life, but Ricky gives great insight into how we can use stress to make life better. Don't get caught up in stress, instead let's be better equipped to see it as a positive part of life!
In this episode, Ricky Lewis discusses…
Stress is always a part of life.
Your belief about stress determines how it effects you.
Too much stress can be detrimental.
Have I noticed a significant change in the life of my teenager?
How can I help teens better cope with stress?
How can I help them see stress as a positive?
How much stress do you think you can handle? What are you going to choose to handle?
How could stress be seen as positive?
Do you have a plan for how to handle the stress in your life?
In this episode, we mentioned the following resources:
Ricky Lewis, Executive Director for Teen Life, draws on his experience working with teenagers combined with actively learning about effective coping skills for teenagers over the past 15 years. His experiences in youth ministry and with Teen Life have led to a unique perspective and approach to helping teens be equipped to handle difficulties in their life. Follow him on Twitter!
Chris Robey is the Program Director for Teen Life. Earlier in his career while working as a youth minister, Chris earned a Masters Degree in Family Life Education from Lubbock Christian University to better equip his work with teenagers and families. Chris' career and educational opportunities have exposed him to teenagers from a variety of backgrounds. Follow him on Twitter!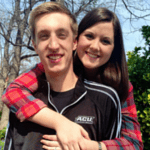 Karlie Duke started working as Teen Life's Communications Director after graduating from Abilene Christian University with a degree in Communications with a minor in Family Studies. Karlie has worked with teenagers for the past 5 years and is passionate about encouraging students to live better stories. Follow her on Twitter or Instagram!
If you have a question about something you heard or just want to give us some feedback, please leave us a comment below.  We would love to hear from you!