Podcast: Play in new window | Download
In this episode of this series, we are talking to Tyson Dever, author of Trauma is a Team Sport, about life after the unexpected happens. As a young adult, Tyson's life was forever changed after a distracted driver of a fully-loaded cement truck hit his car. This car accident left him paralyzed from the waist down, and changed any plans he had for the future. However, in the midst of this unexpected tragedy comes hope and the fulfillment of lifelong dreams.
Join our conversation with Tyson Dever and his co-author, Sarah Paulk, as we talk about tragedy, recovery, motivation, and the will to thrive.
If you have experienced an injury or traumatic event, or are walking through life with a teen who has a similar experience, this is the podcast for you! We invite you to join our conversation with Tyson Dever.
In this episode, we mentioned the following resources:
On March 11, 2005, Tyson Dever survived a car accident that left him paralyzed from the waist down. On that day, Tyson lost his ability to walk and life as he knew it changed forever. What Tyson gained was a desire to inspire people to be determined in life and to live life completely. Today, Tyson lives independently, drives, fishes from his own bass boat, hunts using a rugged track chair and shares his message with audiences across the nation.
Sarah Paulk is a professional writer, editor and collaborative author. After graduating from Abilene Christian University in 2004, with a degree from the department of Journalism and Mass Communication, she became a regular contributor to nationally distributed magazines, and has been featured in supplements to The Wall Street Journal and USA Today. Sarah lives in Fort Worth, Texas with her husband, Brock, and their two children.
Chris Robey is the CEO of Teen Life. Earlier in his career while working as a youth minister, Chris earned a Masters Degree in Family Life Education from Lubbock Christian University to better equip his work with teenagers and families. Chris' career and educational opportunities have exposed him to teenagers from a variety of backgrounds. Follow him on Twitter!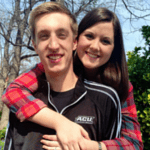 Karlie Duke is Teen Life's Marketing & Development Director, joining Teen Life after graduating from Abilene Christian University with a degree in Communications and a minor in Family Studies. Karlie has worked with teenagers for the past 6 years and is passionate about encouraging students to live better stories. Follow her on Twitter or Instagram!
If you have a question about something you heard or just want to give us some feedback, please leave us a comment below.  We would love to hear from you!