Podcast: Play in new window | Download
In this episode of this series on the unexpected, we are talking to Charlotte Smily about life as a teen parent and life as a parent of a teen parent. As a 17-year-old senior in high school, Charlotte found out she was pregnant with her oldest daughter, Morgan. Years down the road, Charlotte found out that Morgan was going to become a teen parent herself when she got pregnant her sophomore year of college. With her incredibly unique experience and perspective, Charlotte walks us through the challenges of teenage pregnancy from both sides of the story.
We are so thankful for Charlotte's wisdom as we talk about choices, family, grace, forgiveness, accountability, and walking through difficult times.
If you have a teen parent or parent of teen parent in you life, please listen, share and let us know what you think! We invite you to join our conversation with Charlotte Smiley.
In this episode, we mentioned the following resources:
At 17, Charlotte found herself pregnant with Morgan who is now 29 years old. After graduating from high school early, she went on to graduate from Midwestern State University with a B.S. in Dental Hygiene. Charlotte met her husband Scott when Morgan was 4 months old, and they now have four beautiful children and 3 grandchildren. Charlotte and Scott consider their lives a ministry as they find their passion mentoring young teenagers and young married couples.
Chris Robey is the CEO of Teen Life. Earlier in his career while working as a youth minister, Chris earned a Masters Degree in Family Life Education from Lubbock Christian University to better equip his work with teenagers and families. Chris' career and educational opportunities have exposed him to teenagers from a variety of backgrounds. Follow him on Twitter!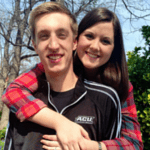 Karlie Duke is Teen Life's Marketing & Development Director, joining Teen Life after graduating from Abilene Christian University with a degree in Communications and a minor in Family Studies. Karlie has worked with teenagers for the past 6 years and is passionate about encouraging students to live better stories. Follow her on Twitter or Instagram!
If you have a question about something you heard or just want to give us some feedback, please leave us a comment below.  We would love to hear from you!