Podcast: Play in new window | Download
Teenage substance abuse is a growing problem, especially with the changing marijuana laws. In this episode, you'll hear from the Program Manager of a rehabilitation center for adolescents. Don't panic about teenage substance abuse, we're here to talk through substance use trends, treatment options and the importance of family support!
In this episode, you'll find out…
Substance abuse trends among teenagers.
Some advice to give teenagers who are trying to recover in a difficult environment.
How families can help loved ones successfully navigate substance abuse treatment.
How to navigate the "marijuana debate."
Some warning signs of drug use.
The first step adults can take to confront teenagers about drug use.
Have I noticed any behavior or financial changes with that teenager?
How can I help them change their environment to make recovery easier?
I've noticed some big changes in your life. What's going on?
How can we change the people, places and things in your life to help you quit using that substance?
What can you personally control that would help with substance abuse recovery?
In this episode, we mentioned the following resources:
Sara Kaylor, LCDC, CRC, LPC Intern is the Program Manager at The Youth Campus, a division of MHMR of Tarrant County. She oversees inpatient and outpatient rehabilitation services for The Youth Campus and has been there for the last 5 years. Each week, Sara oversees programs and services that help adolescents deal with substance abuse addictions.
Chris Robey is the Program Director for Teen Lifeline, Inc. Earlier in his career while working as a youth minister, Chris earned a Masters Degree in Family Life Education from Lubbock Christian University to better equip his work with teenagers and families. Chris' career and educational opportunities have exposed him to teenagers from a variety of backgrounds. Follow him on
Twitter
!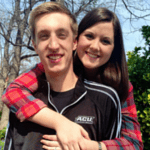 Karlie Duke started working as Teen Lifeline's Communications Director after graduating from Abilene Christian University with a degree in Communications with a minor in Family Studies. Karlie has worked with teenagers for the past 5 years and is passionate about encouraging students to live better stories. Follow her on
Twitter
or
Instagram
!
If you have a question about something you heard or just want to give us some feedback, please leave us a comment below.  We would love to hear from you!