Podcast: Play in new window | Download
---
In our second interview from CenterPeace's e3 Conference, Chris and Karlie are joined by two youth pastors to talk about how to support, encourage and involve homosexual teenagers in a youth group context. Hopefully this discussion will help you have better conversations with homosexual teenagers, their families, and your church leaders as we try to figure out how to best show the love of Jesus to the LGBT youth in our churches.  
In this episode, you'll find out…
What can be done differently in church youth groups to better support and alleviate tension with the LGBT community.
Some factors to consider when talking to gay teenagers.
Questions to ask homosexual teenagers and their family.
How youth pastors can encourage their students to foster healthy conversations with homosexual teenagers.
The way our language and assumptions can negatively affect homosexual teens.
How does my church feel about homosexuality? Can I make promises to students that will be supported by my church family?
Am I willing to make room for teens and their families to struggle with how homosexuality fits in the church?
How do you feel about our youth group welcoming gay students?
How can the church better support LGBT teenagers?
In this episode, we mentioned the following resources:
This episode was recorded at CenterPeace's e3 Conference. Founded as a 501(c)(3) non-profit organization, CenterPeace offers seminars to help church leaders, educators, and families better understand same-sex attraction and open conversations about faith and homosexuality. Allowing the Lord to take the brokenness of our past and use it to His glory, CenterPeace is helping Christians who experience same-sex attraction find a place to belong within the Body of Christ.
Chris Robey is the Program Director for Teen Life. Earlier in his career while working as a youth minister, Chris earned a Masters Degree in Family Life Education from Lubbock Christian University to better equip his work with teenagers and families. Chris' career and educational opportunities have exposed him to teenagers from a variety of backgrounds. Follow him on Twitter!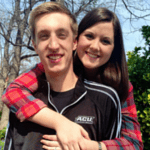 Karlie Duke started working as Teen Life's Communications Director after graduating from Abilene Christian University with a degree in Communications with a minor in Family Studies. Karlie has worked with teenagers for the past 5 years and is passionate about encouraging students to live better stories. Follow her on Twitter or Instagram!
If you have a question about something you heard or just want to give us some feedback, please leave us a comment below.  We would love to hear from you!